Do you run a new or existing company? Then, most likely, you've previously had to use technology to automate and streamline business operations, and it didn't always go smoothly for your startup or company.
Today's IT sector places no restrictions on you: development enables a business or startup owner to execute duties fast. No-code app development, for example, allows you to automate business operations without writing a single line of code and construct business apps in a matter of hours.
The development of platforms and no-code technologies allows anybody to become a developer in their own business, startup, or hire a separate no-code expert for ten times less than a developer's team.
What is application development without code (zero-code, no-code, code-free)?
No-code development is built on a block-building technique that allows you to design programs as a constructor from the pieces you require without writing a single line of code. The blocks and their connections have already been developed and programmed.
Artificial intelligence may also produce code without the involvement of developers. It accelerates the creation of every app by tens or even hundreds of times, making it incredibly cost-effective and accessible to any startup or enterprise.
The Best No-Code Apps And Tools
In this post, we've compiled a list of the greatest app development and no-code tools. Examine it to determine which app development platform and no-code tools are best for you.
AppMaster.io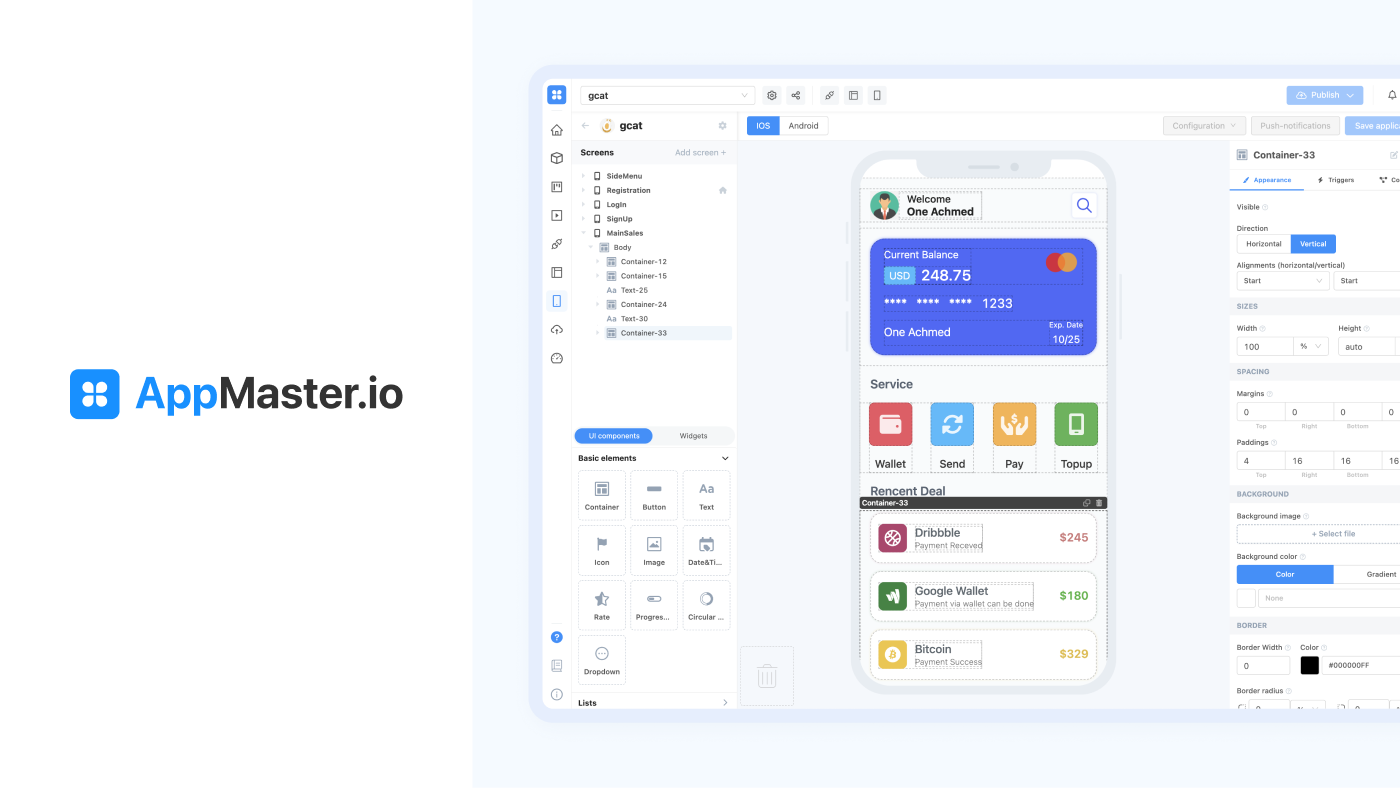 AppMaster.io is a no-code platform that allows you to create apps of any complexity. The software creates around 22,000 lines of code every second and focuses on the visual construction of programs utilizing blocks and their interactions. Key advantages include:
real backend and clean code, not imitations in the form of web pages;
development of server, mobile, and web apps on the one platform;
a convenient visual editor of business processes drag-and-drop with which you can create both a simple taxi;
application and an application for launching rockets into outer space;
generated code is every time anew, so there is no technical debt (yes, with our generation speed, we can afford it);
more than 40 ready-made modules and integrations with popular services;
code auto-generation using AI and API documentation;
the adaptability of functions to the needs of the customer (an economical solution for a startup);
exporting the source code;
work with cloud services;
automation of business processes of any complexity;
work with bots and robots;
the ability to create apps with an accelerator and much more.
AppMaster.io is continually evolving and striving for maximum efficiency, distinctiveness, and diversity. On AppMaster.io, just your imagination is the limit. We take satisfaction in being included on this list of the finest no-code app builders.
Appy Pie
Appy Pie is a no-code tool and platform for building websites, mobile apps, chatbots, and other design aspects (logos, posters, brochures, business cards). It claims to be able to construct a mobile app in three simple steps.
Over 300 major applications and tools are supported, including Discord, Slack, Zoom, Microsoft Teams, Trello, and more. Additional perks include a live customer service chat and no-code programming training.
Nintex Process Platform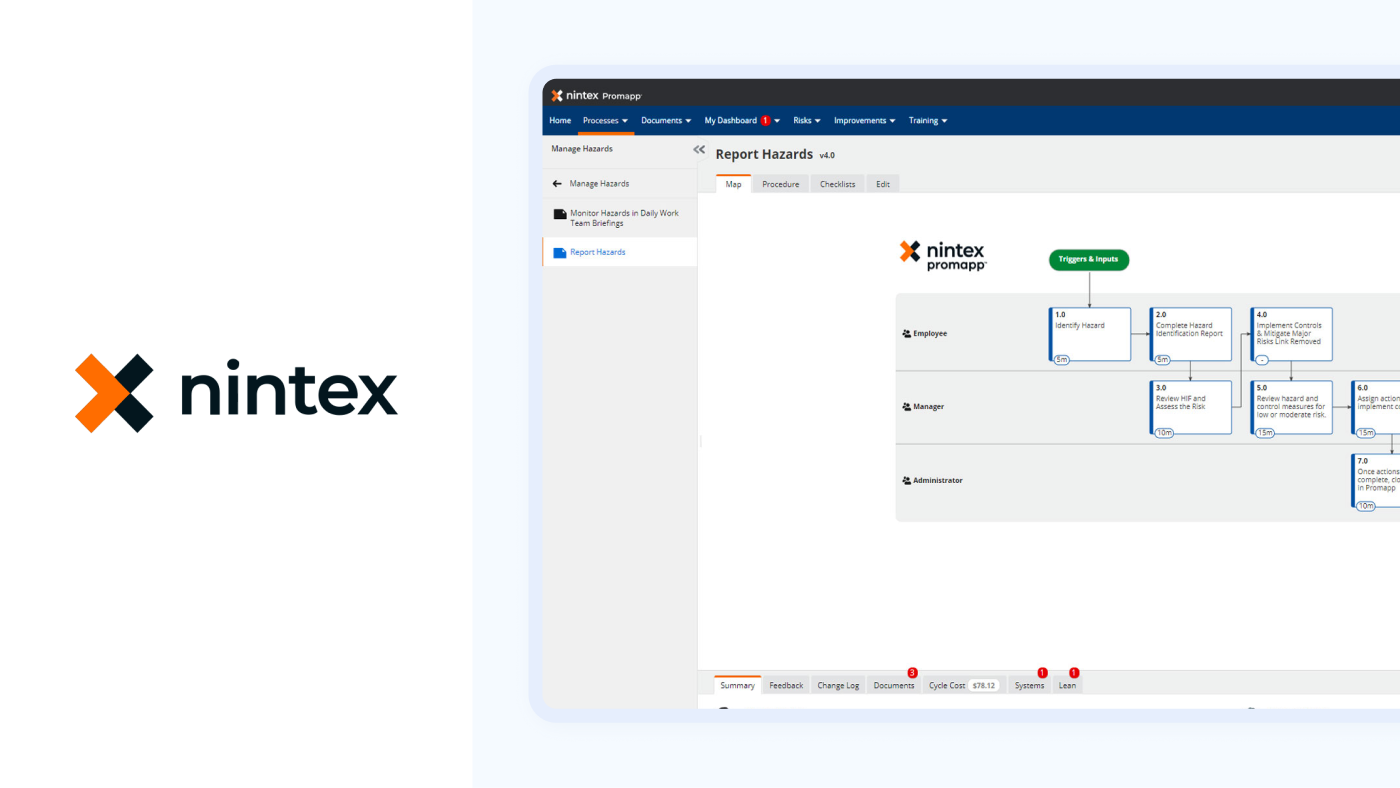 Nintex Process Platform features low-code workflow automation, robot-assisted workflow automation, electronic document production, dynamic web forms for data collection and transmission, mobile apps, process analytics, interfaces with popular tools and services, and much more. It employs a drag-and-drop mechanism with a no-code construction constructor.
---
AppSheet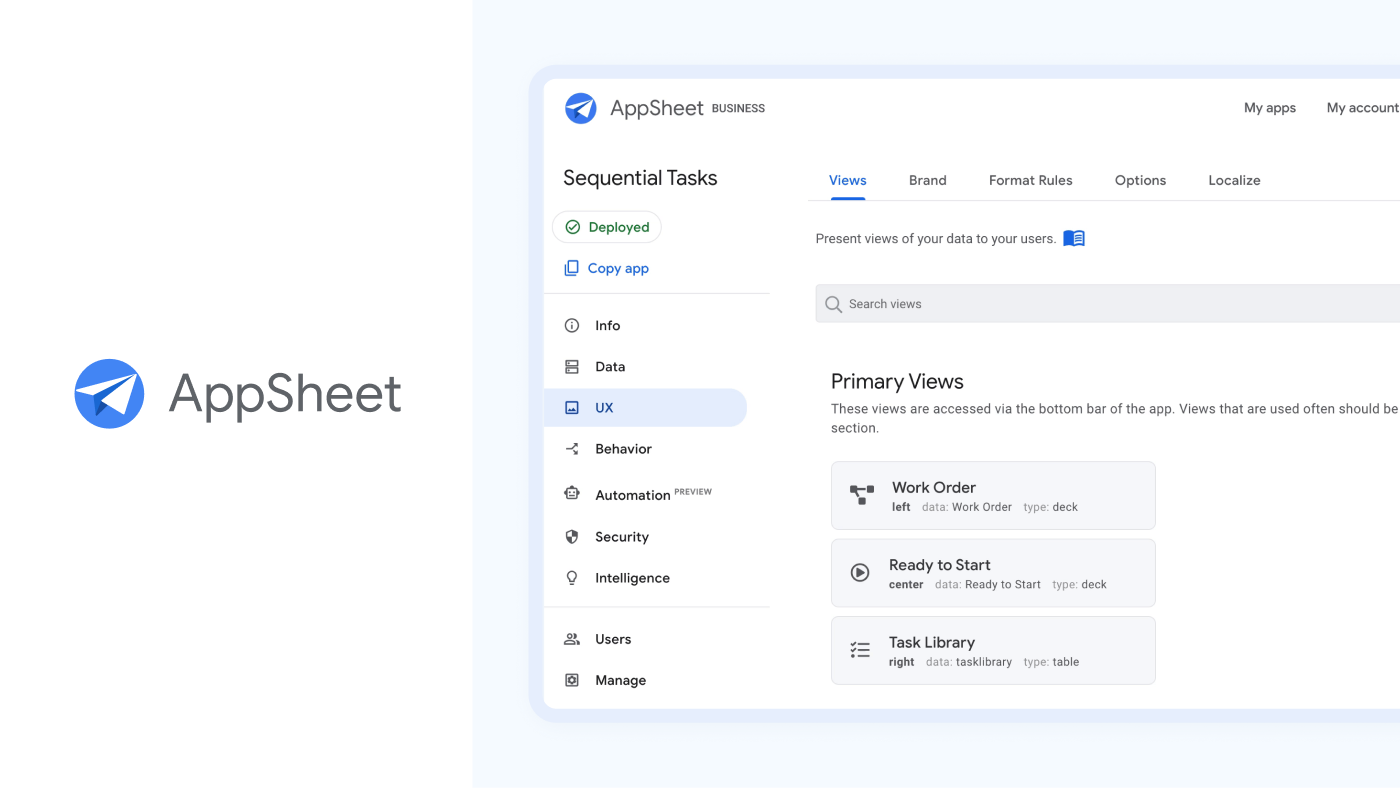 AppSheet builds apps without code in 4 ways:
connecting data sources such as Excel, Google Sheets, SQL, else;
by copying the sample app;
using an add-in for Google Tabs, Google Forms, Excel;
using the declarative native programming tool SPEC.
You may develop a mobile app here, or copy and change a ready-made template for a reasonably simple app. It is possible to personalize buttons, actions, and automate processes.
Airtable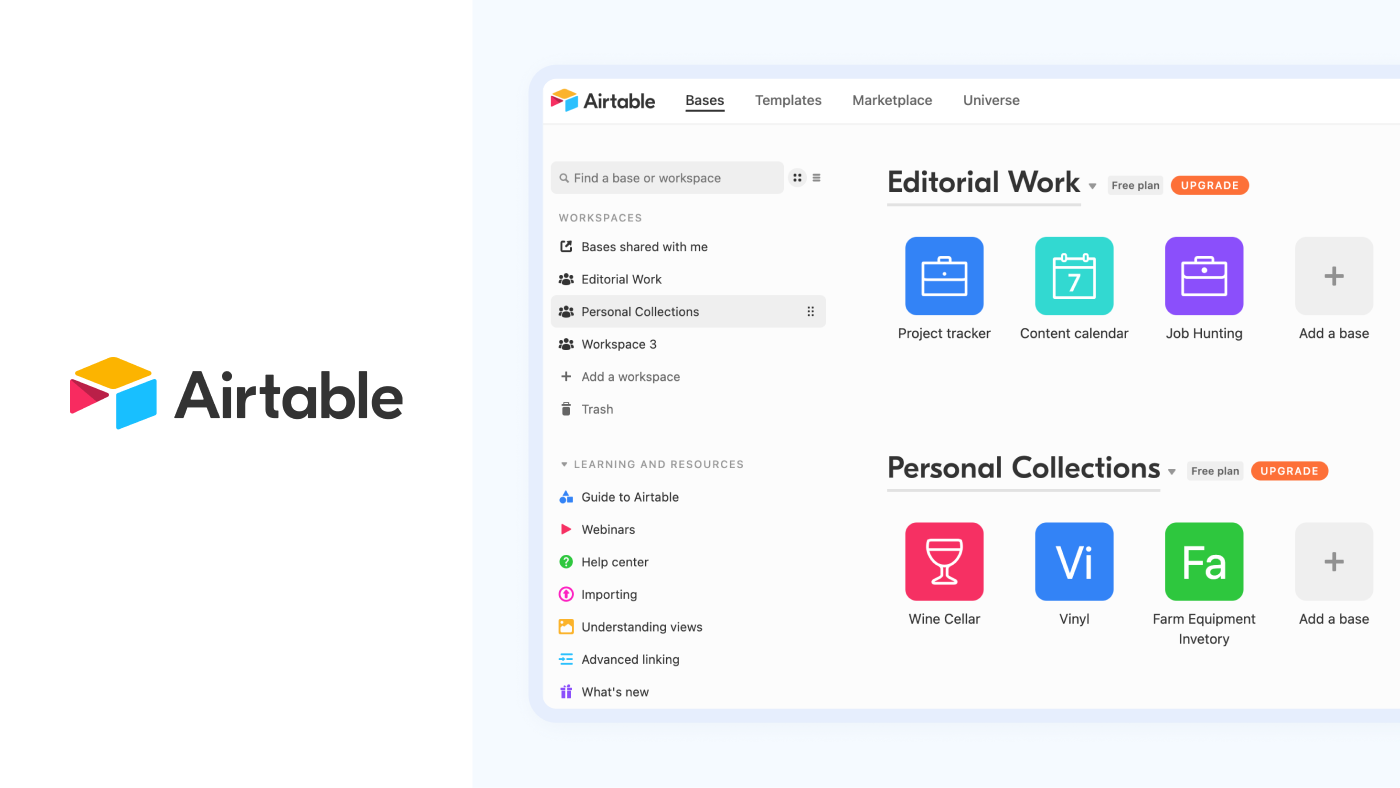 Airtable is a spreadsheet-like no-code application. The ability to manipulate blocks lets you to personalize the interactions between them in a variety of ways. When your business goals change, Airtable also allows you to modify your software. Allows the organization to have a diverse set of applications. It has a variety of data viewing options and several connectors, including Asana, Dropbox, Evernote, GitHub, Gmail, Google Drive, social media, and more.
---
Quickbase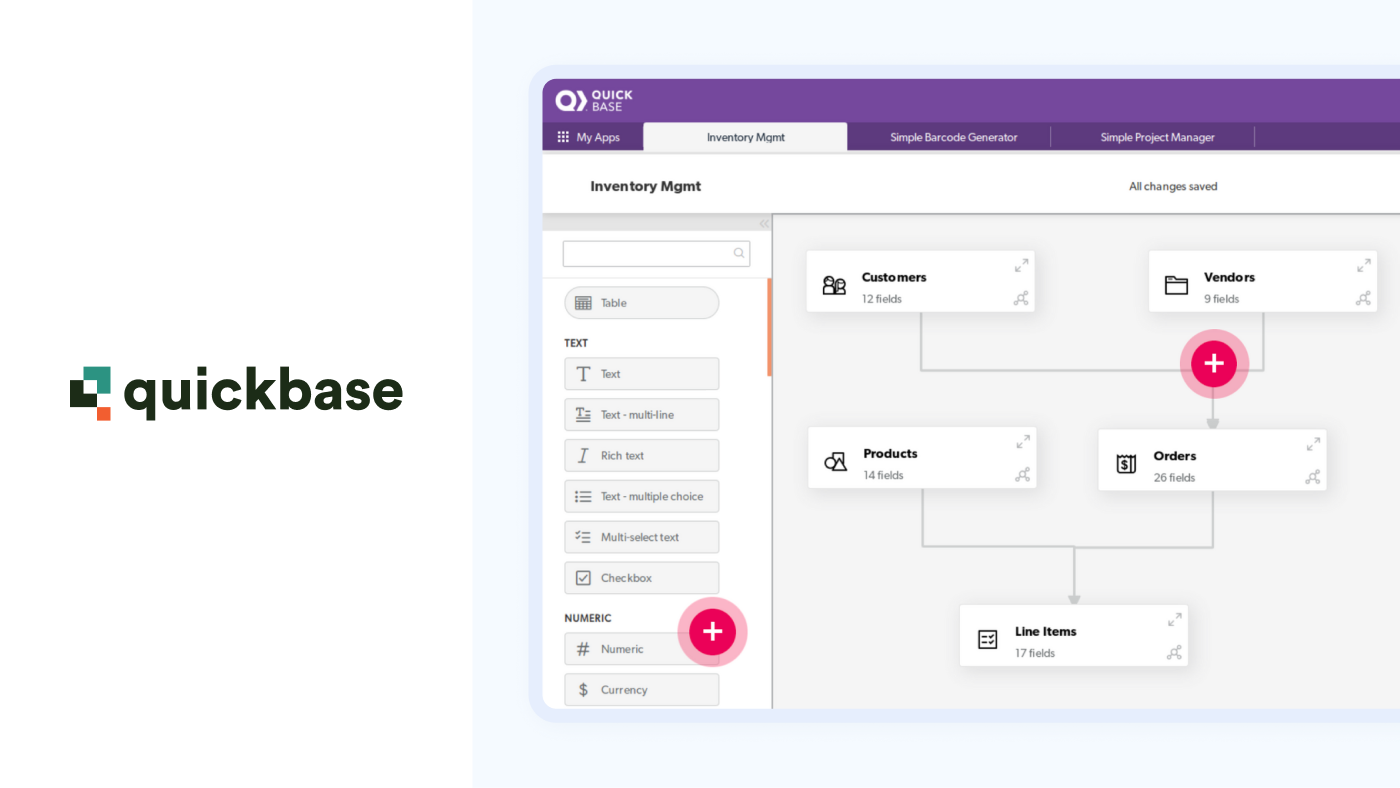 Quickbase is a no-code development platform that helps businesses optimize their operations by evaluating and automating complicated and heterogeneous processes in real time. Connects and saves company databases, as well as providing instant access to all relevant information.
Ninox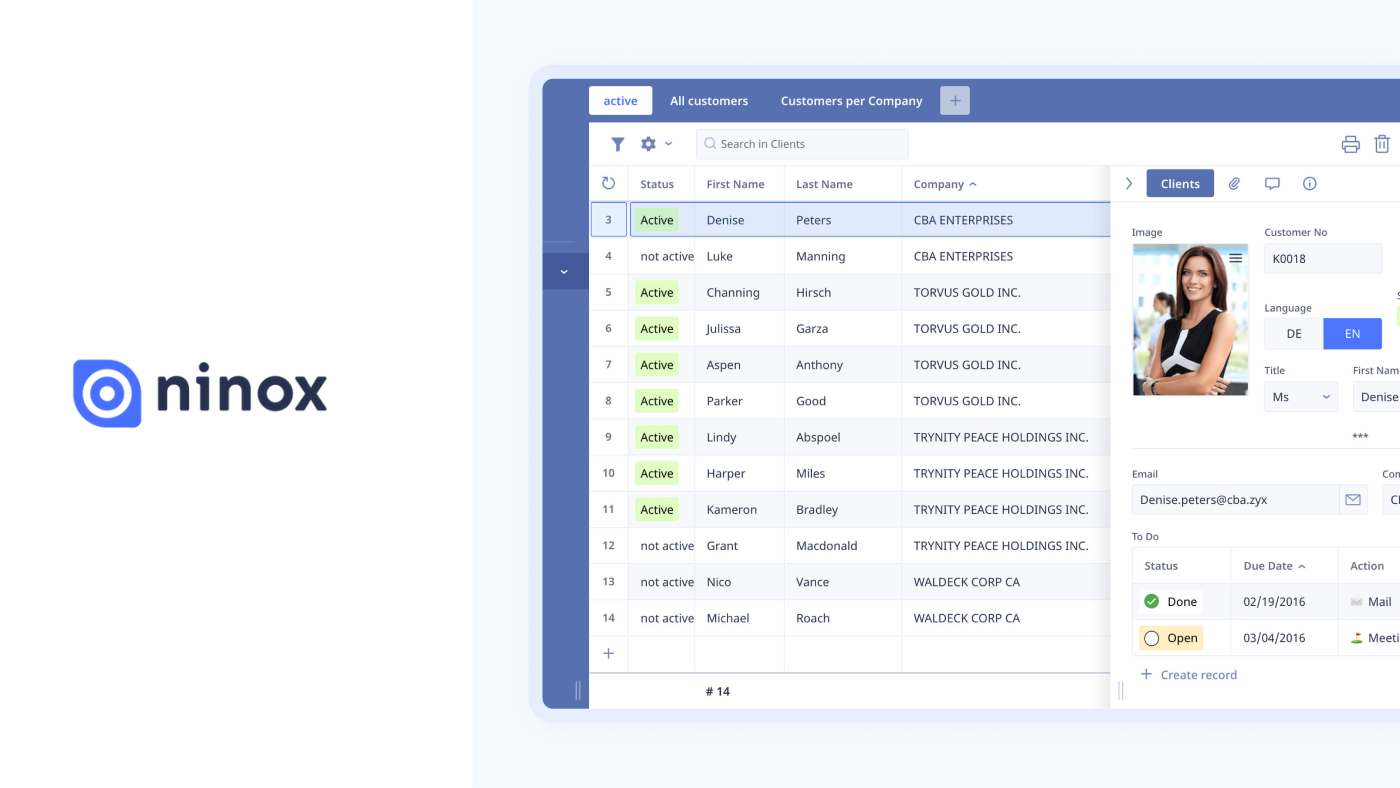 For the desired process, Ninox generates applications without coding. To improve operations, Ninox allows you to integrate applications from many corporate divisions. Connect CRM or ERP, for example, to centralize project management data, administration reports, and data from the sales and HR departments.
SurveySparrow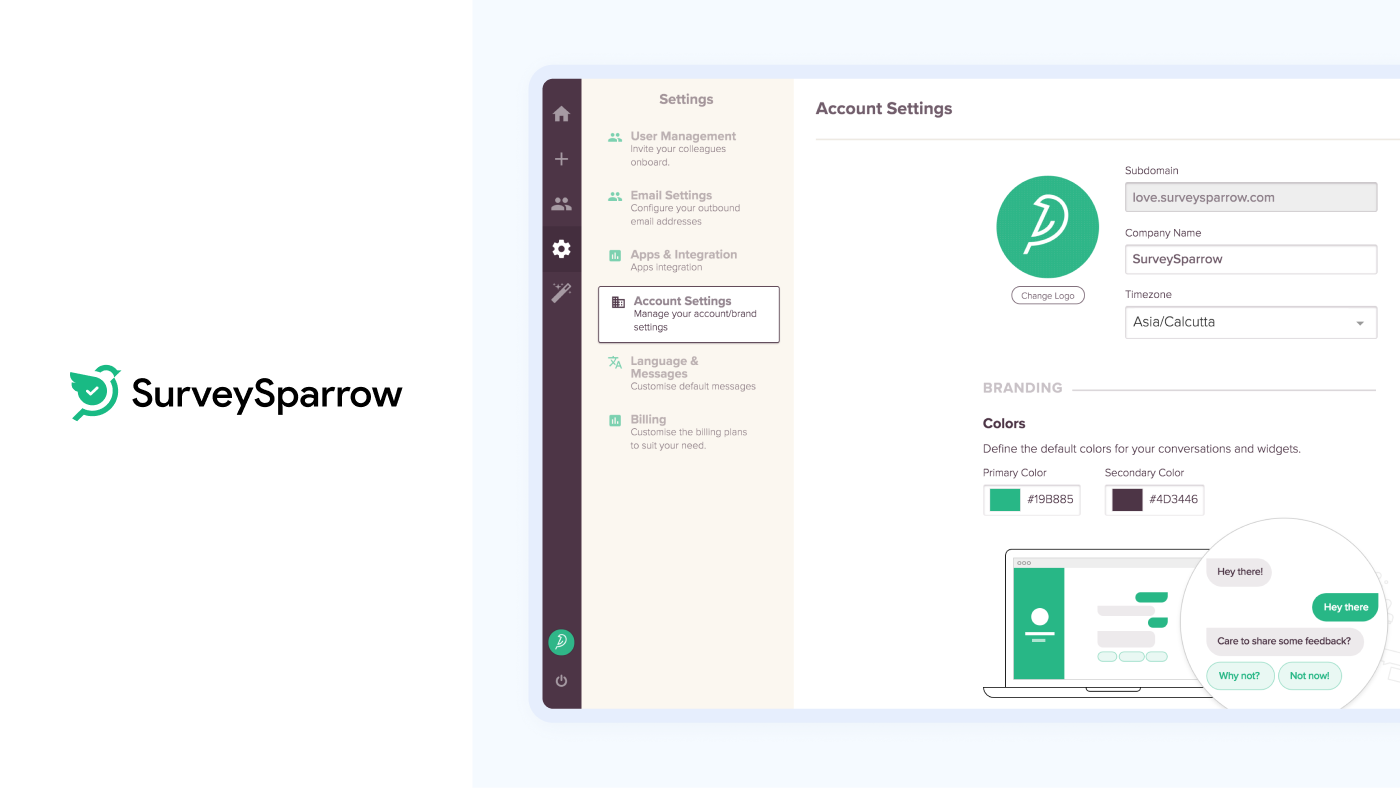 Customer and staff engagement features are integrated into SurveySparrow's full omnichannel no-code app development platform. Dedicated to developing various sorts of surveys and more. Among the platform's key features are:
classic polls that ask one question at a time;
chat-style polls that switch from static to dynamic conversations;
offline polls that allow you to collect reviews even from locations without the Internet;
NPS surveys to measure customer sentiment with a single question;
360° assessment of the effectiveness of employees in various fields of activity and the creation of personal development plans;
tools for creating meaningful reports;
user management capabilities to streamline workflow;
single sign-on to the platform;
IP restrictions;
exchange of polls on multiple channels;
integration of other services;
custom CSS.
---
Salesforce Platform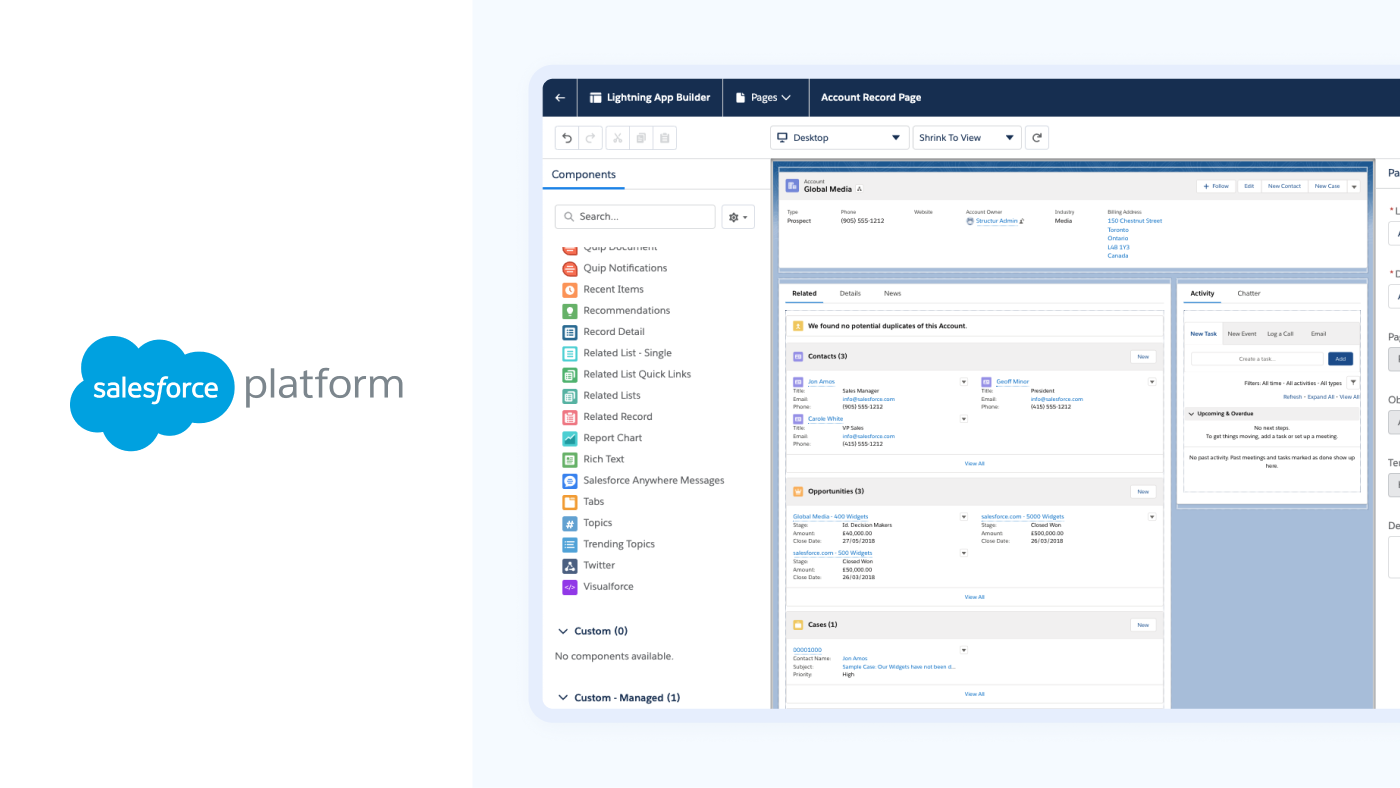 CRM's features and usefulness are enhanced by the Salesforce no-code platform. Because of its drag-and-drop ease, practically anybody can create no-code apps to automate corporate operations or assist customers in finding vital information. If you're a developer, Salesforce allows you tailor your app development in your favourite language.
Apps created in open languages such as Ruby, Java, and PHP may be executed and managed by users. Before being published, applications may be changed in the cloud and run on mobile devices, tablets, and the Internet.
Jotform Tables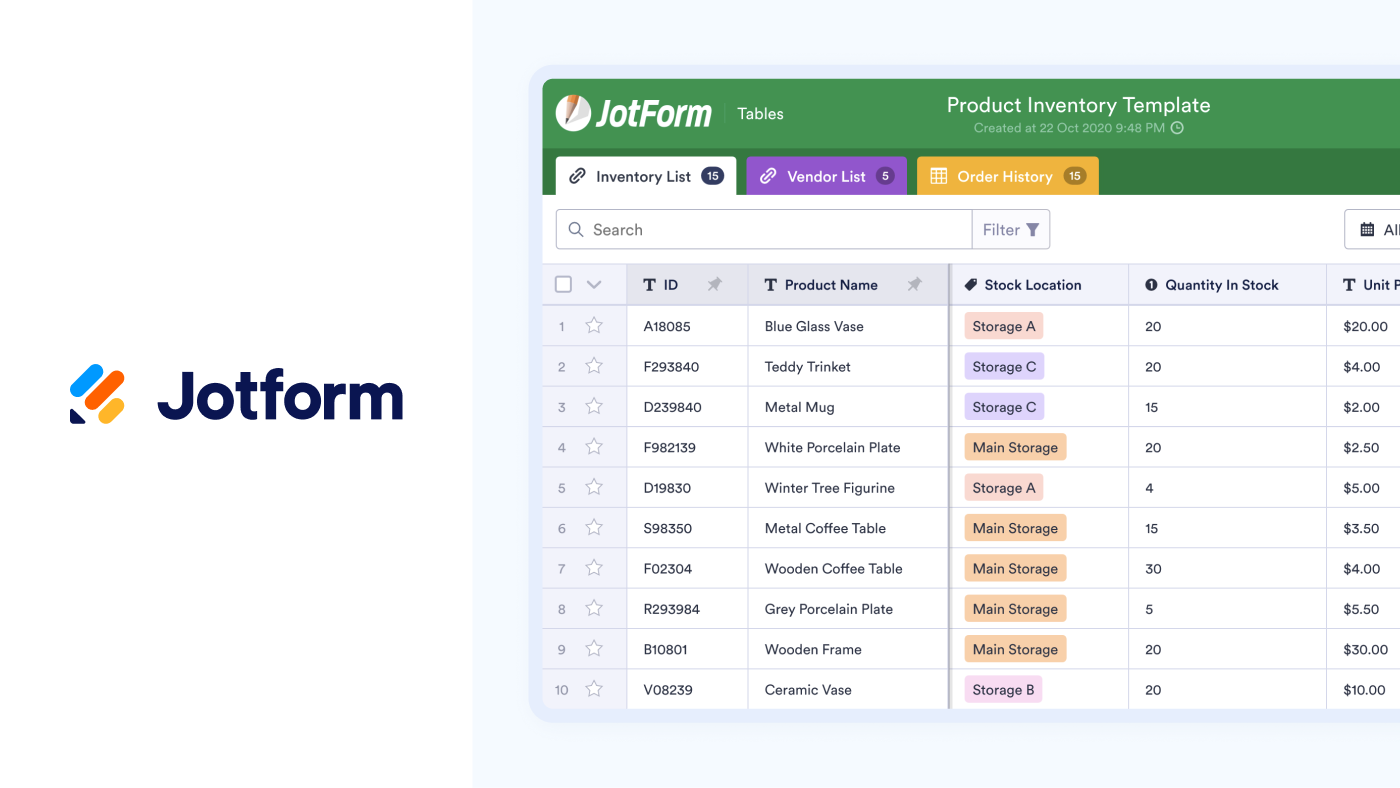 Jotform Tables is a no-code platform that helps businesses increase productivity. The software can collect critical information using online forms and immediately sync replies to spreadsheets, allowing all data to be kept in one secure collaborative environment. Over 250 free table templates are available from Jotform Tables. You may import data from CSV or Excel files or manually enter data. Tables and calendars, reports, and cards may all be used to display and edit data.
Columns, formulae, filters, and searches may all be added using the functions. It's simple to share links with other people and collaborate on a project. You may organize your complete team using the platform, which is a hybrid, linked database spreadsheet.
---
Landbot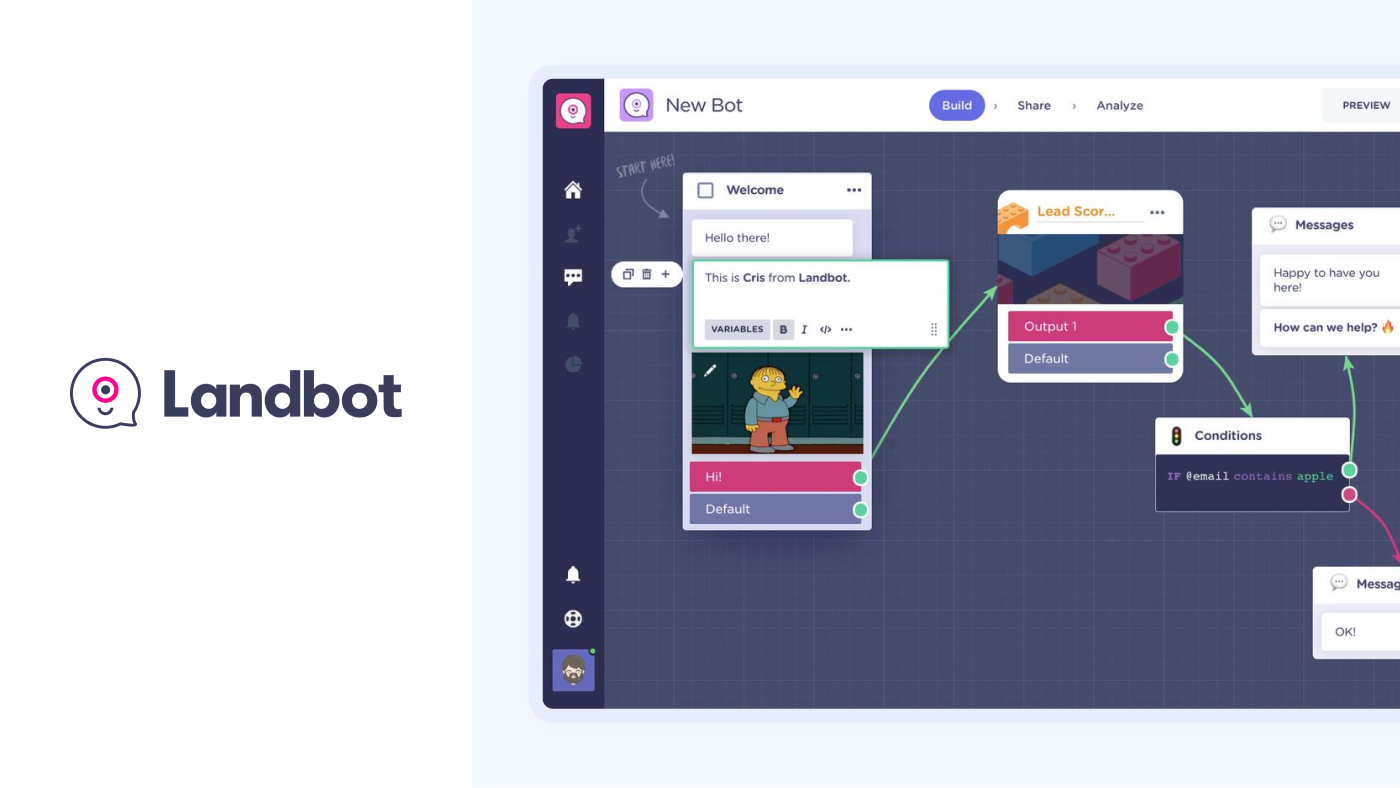 With a simple no-code builder, drag-and-drop way of numerous UI components, multichannel online interaction, WhatsApp message, and Facebook, the no-code platform enables you develop conversations for your audience. Landbot offers complex data processes, natural language processing (NLP), Dialogflow, and real-time interaction with other popular apps. Without writing a single line of code, it optimizes every stage of your client experience, from lead generation to customer care.
---
Quixy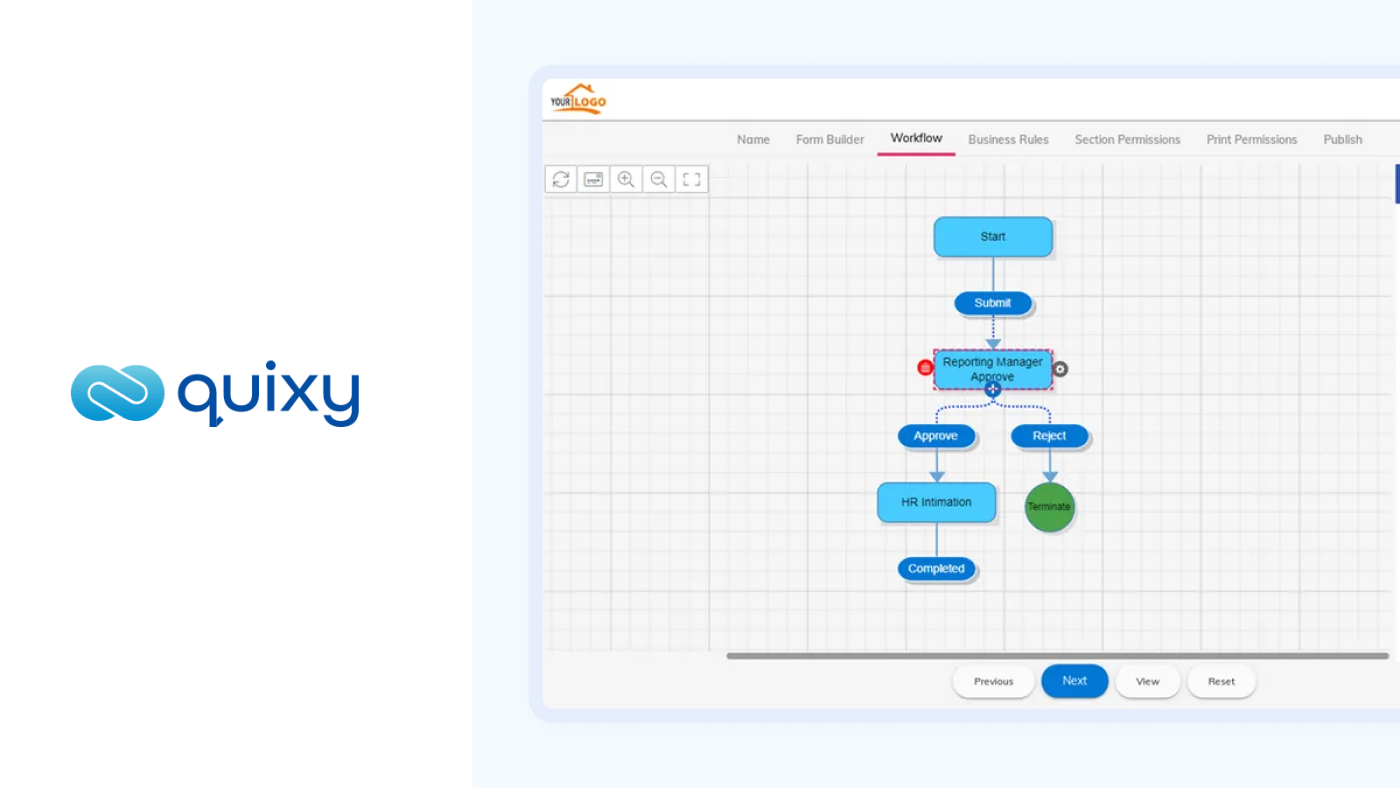 Quixy is a cloud-based no-code business app builder that empowers non-coding users to automate workflows and build enterprise-grade apps with a simple drag-and-drop. Quixy provides dozens of out-of-the-box solutions for various use cases such as CRM, project management, HRMS, travel and expense management, service request management, and more. You can try this no-code app builder with a 21-day free trial.
---
Kintone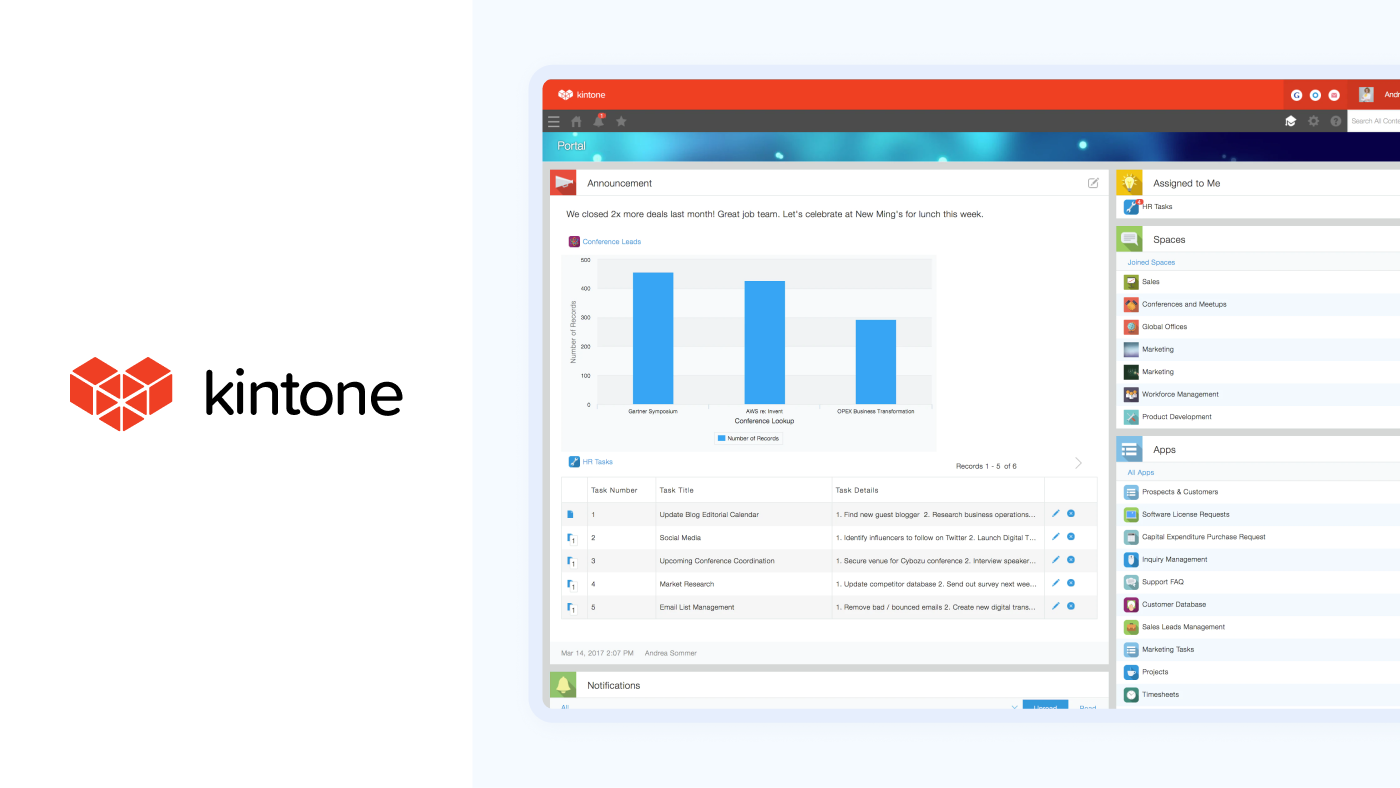 Kintone is a line-of-business app development platform that allows you to create applications, processes, and databases for your teams and organizations without writing a single line of code. Kintone users may utilize clicks instead of coding to create apps that automate corporate processes, collaborate on projects/tasks, and instantly report complicated data.
Kintone also provides hundreds of out-of-the-box apps for various scenarios like as CRM, project management, and more for customers that need to get started right away.
---
Bubble
Bubble is also one of the greatest no-code app creators on the market. Bubble is an online editor and cloud hosting platform that allows users to construct fully customized web apps and processes, ranging from simple prototypes to complicated markets, SaaS products, and multi-user interactive platforms like Facebook or Airbnb. The service is based on the visual programming and drag-and-drop technology concepts.
Bubble allows you to organise and store any data, as well as construct custom logic, logistics, and UX design within a service. Bubble also allows you to develop a backend in addition to the frontend. Bubble also lets you process user data and connect to a large variety of third-party services.
Adalo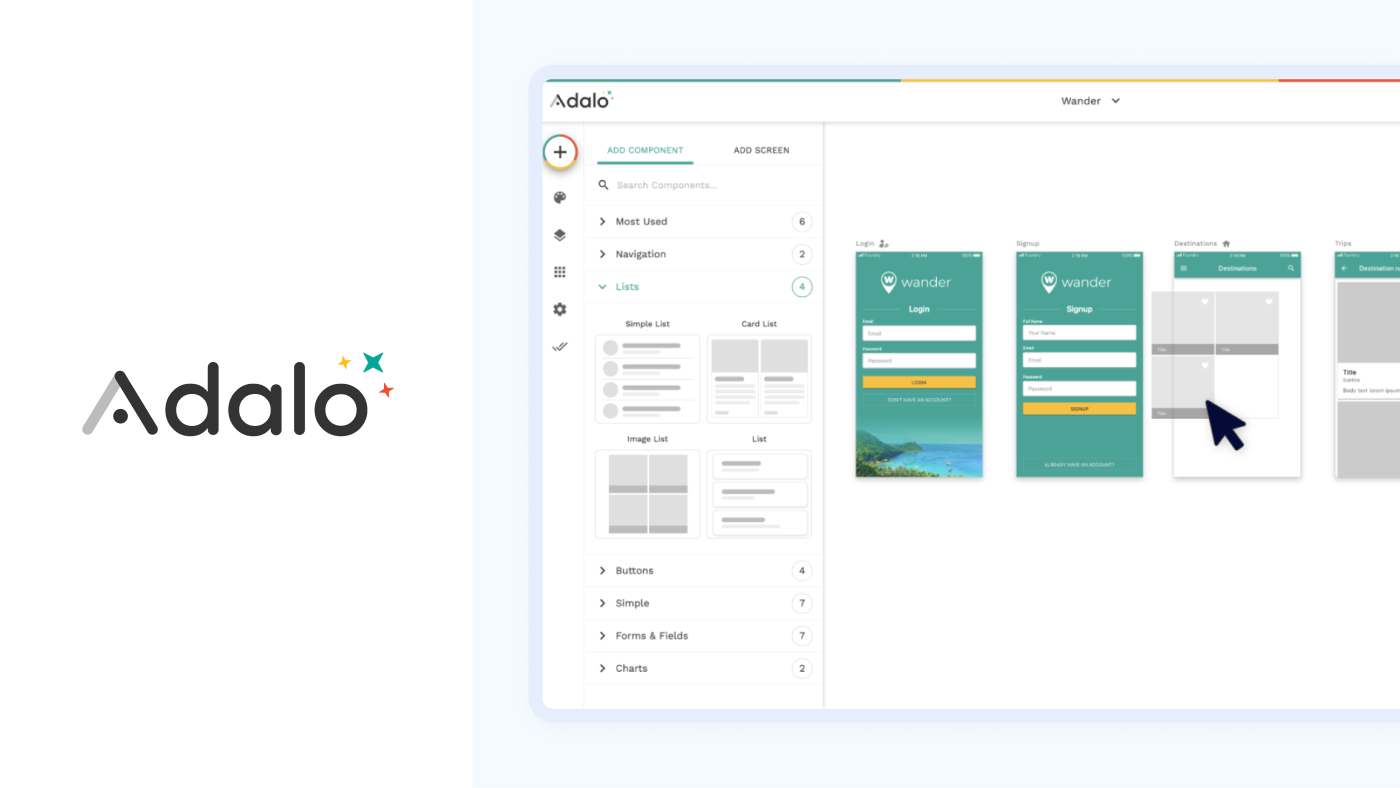 It's a platform for creating mobile apps that doesn't require any coding and is available on the App Store and Play Market. The platform's straightforward design, stunning templates, and simplicity appeal to users.
With Adalo, almost anybody can create a mobile app. You do not need to spend a lot of time studying the tutorials to understand how to operate in Adalo. The toolbar is simple and uncluttered, however the platform's capability is restricted.