Want to get into podcasting? Investing in a good microphone is an essential step. Discover our selection of the best microphones for podcasting or streaming.
To guarantee that your audience has excellent listening quality, it is important to have quality equipment before starting the adventure of podcasting or streaming. The purchase of a high-quality microphone is the foundation in this area if you want to get off to a confident start.
The microphone, receptacle of your voice, is an absolutely essential element to get your podcast off to a good start . However, it is necessary to take into account several factors beforehand, in particular concerning the budget but also the specific needs of each one. What kind of equipment do you plan to invest in? What will your recording format be? What type of microphone suits you best?
read also Stream setup: which equipment to choose to get started on Twitch or YouTube?
There are two different types of microphone connections available on the market: XLR and USB. The best course of action if you're planning to set up a streaming setup is unquestionably to spend money on a good microphone. We suggest that you spend money on high-quality headphones, which you can get in our specialized guide, to ensure adequate sound quality.
Best Microphone for podcasting and streaming
It is among the best goods in its industry. The Blue Yeti X's greatest strength is unquestionably both its adaptability and its dependability. The mic has a first-rate construction and a robust design. Even a screw thread to repair the microphone may be found. A micro-USB port and a headphone jack are also included.
The microphone features two buttons for the grip. The first lets you choose the recording mode configuration. There are a total of four different modes, whether you're playing by yourself, with a partner, or with others at the table. The second is used as voice gain information. The LEDs glow red and you just need to spin the wheel if the sound becomes saturated.
It is also feasible to spend money on various brand-name accessories, however doing so is entirely discretionary and still fairly pricey. Generally speaking, the Blue Yeti X produces audio that is sufficient for streaming or podcasting.
---
Shure sm7b: the best microphone available
It is a dynamic microphone with an iconic design as its first selling point. For both radio hosts and Twitch streamers, the SM7B is THE standard product. The product's body is decorated with a lovely black, and the finishes are good enough to convey a sense of surprisingly toughness while upholding a minimalist aesthetic.
Additionally built into the design of the microphone is the XLR cable. Therefore, it will be crucial to spend money on both a strong sound card and an amplifier for high-level sound gain. If you are fussy about your sound management, this is a vital investment. Without a doubt, Shure did a good job in sound management. Even greater voice recognition is aided by it.
---
Roccat torch: perfect for getting started on twitch
It is vital to have top-notch equipment in order to start the grand adventure of streaming. But without spending a fortune, it's much better! A device advertised for less than 100 euros that was created with this in mind is the Roccat Torch. Both multiplayer and streaming are compatible with it.
The microphone stands out right out of the box because to an impressive foot that might surprise you. Both a support and a mixer are provided by this. In order to mount it on a pole, a screw thread is also included. The microphone is connected to the base by the USB-C connection that is included in the box. The second is intended for computer plugging. Its design and build are sturdy enough to make it the ideal gaming buddy.
For additional mobility, a telescoping arm, so beloved by streamers, would still be a useful accessory for the Roccat. It is possible to live without it, though.
Neat bumblebee ii: the affordable solution for podcasts
The Bumblebee II from Neat is a particularly cost-effective micro USB variant. You may purchase a microphone with a straightforward USB connection and no driver requirements for 99 euros. Everyone, streamers, musicians, podcasters, etc. can utilize it due to the clarity of its voice capture.
The Bumblebee II is a sturdy microphone that is especially small and portable. If it is shipped with a sturdy U-shaped stand as standard, it can be fastened to any microphone arm currently on the market. Additionally, an adapter is included right in the package. The employment of an arm is highly advised because the basic foot has some difficulty isolating shock noise.
---
Shure mv7: compatible with several recording solutions
Are you looking for a product with a lot of uses? The catalog for the Shure brand includes a number of models. The MV7 is distinguished by its flexibility because it contains both an XLR and a USB connection. Make sure you have a sound card with the appropriate input if you ever use the latter.
Regarding the design, the Shure MV7 is offered without a stand but performs best when used with one. Sadly, the microphone is not included with the attachment. A USB port, an audio jack port, and an XLR socket all offer connectivity. This indicates that both a smartphone app and a certain PC client are required for the MV7 to function.
The audio quality of the microphone is naturally good, but it won't prevent you from making minor adjustments. The most professional will regret the absence of recording software and will have to turn to third-party solutions. In short, the Shure is certainly excellent, but it is covered with additional elements to buy in addition.

---
Rode podmic: the most professional of microphones
High-end gear is referred to by those who claim professional microphone. The Rode PodMic is one of the few in our selection that has just one XLR socket in this instance. When ordering, you can select a pole or a regular stand. Your installation, but more importantly, your budget, will determine this.
Be careful though, as this is not a product that should be in everyone's hands. It is also required to invest in a good sound card due to its XLR connection. It is advised that you get the Rode Caster Pro mixer if you plan to use this microphone for musical purposes. You can run into certain installation-related challenges with the twisted XLR wire.
In its construction, the microphone also incorporates an anti-pop filter, which deserves to be underlined since it is quite rare on the market. In terms of prices, the Rode PodMic is offered alone at a price of 99 euros. 
---
Msi immerse gv60: the alternative to the blue yeti x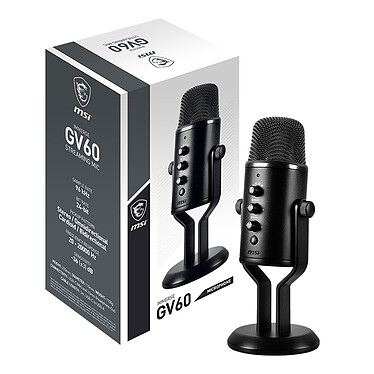 The firm MSI has established a reputation in the hardware and gaming industries. The Immerse GV60 is a microphone that in this instance is unmistakably influenced by the Blue Yéti X. It is a substantial product that is composed entirely of metal. The entire structure is reliable and high-quality.
This microphone has a great connection. Consequently, you are entitled to a USB-C port and a 3.5 mm jack output, both of which are located beneath the item next to the screw thread. Unexpected bias that makes you pay attention to the assistance you purchase. Also take note that the MSI Immerse GV60 comes with two screws and a weighted foot.
The target market for this product is gamers, but more specifically those looking to start streaming on Twitch. The MSI Immerse GV60 has a number of recording modes available. You have cardioid, omnidirectional, forward/backward, right and left bidirectional, and forward/left. Voice recording is possible due to the recorded sound's exceptional clarity and precision.
As a reminder, the MSI microphone is not intended to function with PC applications due to its USB-only connection. We suggest reading the Frandroid review of the Immerse GV60 to understand more.
Which accessories to choose with your podcast microphone?
You would have understood it after reading our selection that most of the chosen mics function effectively on their own. To enhance your usage, however, it is advised to install accessories. You may choose between a boom and a microphone stand for the supports. The Blue perch is competent in its work.
You may raise the sound quality as well. To do this, a number of accessories, such as an anti-pop filter, may be added to the microphone's head. Thus, mouth sounds will be avoided.
Last but not least, sound cards are also necessary for the devices in our assortment with an XLR connector. However, because this is a significant additional cost, it is wise to give the purchase of such equipment some thought.