With UEFI BIOS, Secure Boot is frequently turned on by default on ASUS motherboards. On my new PC, I intended to create a dual-boot arrangement, however, doing so is not feasible with secure boot enabled. That required me to locate the motherboard's Asus BIOS key, launch the Asus BIOS software, and turn off the secure boot on my Windows 10 computer.
The steps I took to disable secure boot using the Asus UEFI BIOS Utility on an Asus X99-Deluxe motherboard are reflected in this guide.
read also: What To Do When Windows 11 Doesn't Support a Processor
disable secure boot on Asus UEFI BIOS
how Disable ASUS Motherboard's UEFI secure boot
The majority of recent ASUS motherboards lack a setting that would enable customers to disable UEFI secure boot. The "Secure Boot Enabled" option is invariably greyed out and cannot be changed. The secure boot may be turned off, though, simply deleting the secure boot keys.
This is reversible so no need to worry about breaking the warranty or damaging the BIOS. BIOS's Secure Boot menu should show Secure Boot state as "enabled" and Platform Key (PK) state as "loaded"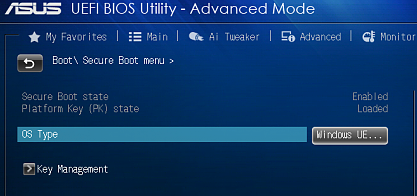 To disable the UEFI secure boot on ASUS:
read also: How to Enable Secure Boot to Install Windows 11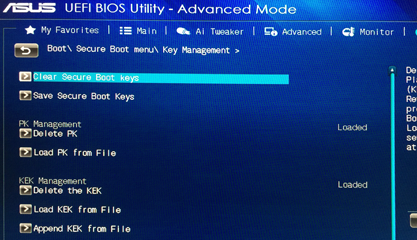 After you cleared the Secure Boot Keys, Secure Boot will be automatically disabled. You can set the OS Type to Other OS now.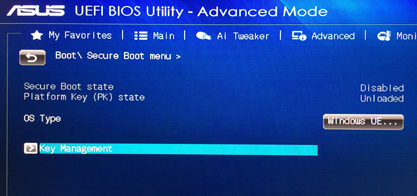 read also: How to Use Windows Text to Speech Feature
How to enable secure boot on Asus UEFI BIOS
If you change your mind and want to enable Secure Boot again, here's how to do it.
Connect a USB stick to the PC.
Open the Start menu and select Restart from the Power menu.
When your computer starts to boot, press DEL on the keyboard (or any other assigned key) to enter the BIOS.
Press F7 (or other designated key) to enter the Advanced Mode section of the BIOS menu.
Open the boot section.
Then open the Secure Boot section.
Navigate to the OS Type option and choose Windows UEFI mode from the drop-down menu.
Then go to Key management.
Scroll down to the Load Default PK option and press Enter.
If you choose Yes, you will load the standard set of keys. Save your settings and exit when done. Wait for the computer to restart. If you choose No, you can load the keys to be backed up and made up.
Assuming you chose No, now choose the USB drive with the keys from the list labelled Select a file system.
Then select the PK key and click OK.
In the Select Key file type, choose UEFI Secure Variable and press OK.
Select Yes when prompted to Update 'PK' from the selected 'PK' file.
Save your settings and exit. Wait for the computer to boot into Secure Boot mode.