It might be difficult to keep track of your inventory from manufacturer to warehouse to point of sale. With as much as $1.1 trillion in cash in inventory at any given moment, this closely monitored flow of items must run smoothly to keep your consumers pleased – and your profit margins healthy.
Fortunately, a slew of new inventory management software has hit the market, assisting in the supervision and automation of this complicated process.
Order fulfillment, purchase orders, sales, incoming stock, and product levels are all tracked using inventory management software, allowing organizations to operate operations more smoothly. It provides a 360-degree picture of your business operations in one SaaS solution, similar to ERP systems and CMMS software.
What Are The Best Inventory Management Software?
1. QuickBooks Commerce (Formerly Inventory Management).
Best for medium-sized businesses requiring tracking sales, inventory, and assembly.
QuickBooks Commerce is a strong and versatile solution that is completely integrated with the QuickBooks accounting software. As a consequence, you can keep track of your inventory while while working on things like invoicing.
Overall, QuickBooks Commerce simplifies accounting and improves financial management with capabilities like as tax computation, sales reporting, cost monitoring, and invoice management.
Key Features:
Advanced Inventory – This feature enables the live tracking of inventory levels and offers a powerful view of inventory management.
Order Management – Streamline your order management effectively and enhance your business growth.
Advanced Pricing – This feature offers you the flexibility to customize, automate, and control your pricing.
Field Service Management – Provides live updates from the field.
Accounting – Easily track invoices, taxes, expenses, sales, bills, and more.
Advanced Reporting – The software makes all the essential reports available at your fingertips.
Pros:
Simplifies the complex tasks and helps in saving both time and money
Offers web-based as well as on-premises deployment options
It eliminates the chances of double data entry and ensures error-free data
Generates detailed reports about your sales and inventory
Automatically creates the packing and invoicing list
Instead of typing the product information, the software uses the barcode scanning method which enhances data accuracy
Enhances order fulfillment by supporting effective pick, pack, and the shipping option
Cons:
It proves to be ineffective for the businesses having their branches in multiple locations
QuickBooks Commerce is not scalable beyond the maximum limit of 30 users
Pricing: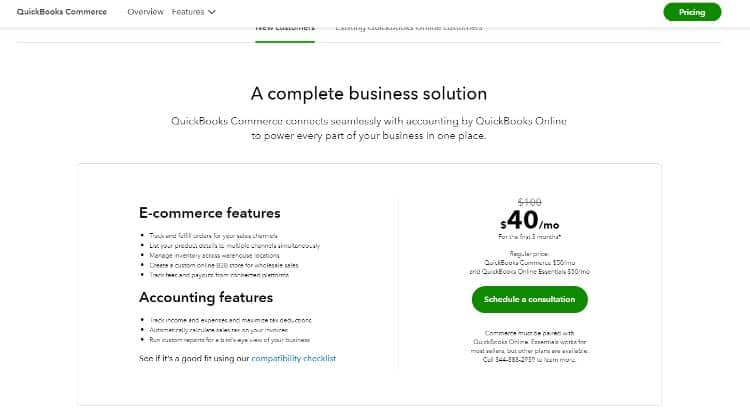 For the first three months, QuickBooks Commerce costs $40 per month.
Best for businesses looking for a cost-effective inventory management tool.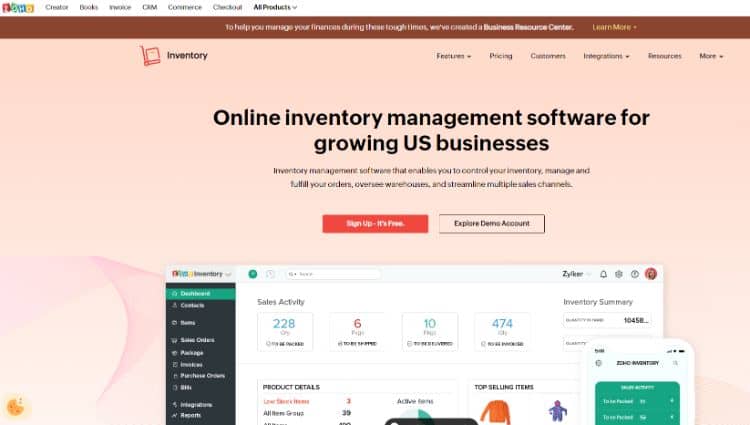 Zoho Inventory is a well-known inventory management software that allows you to manage your inventory across several channels. Zoho also has capabilities like stock management, accounting and CRM connectors, numerous shipping integrations, and more that help you keep track of every product. In addition, the program is best suited for small and mid-sized retailers.
Key Features:
Stock Management – It allows the bundling of items and helps in tracking the stock-flow of different items.
Extensive Integration – It enables seamless integration with the top ecommerce platforms for easy monitoring of stock-flow.
Order Management – This feature allows you to manage orders easily, record deliveries, create sales and purchase orders, and so forth.
Shipping Options – It allows you to select the most financially as well as logistically capable shipping carrier.
Customer and Vendor Management – It enables the recording of vendor and customer information and makes personalized communication easy.
Customization – You can add the required field to payment receipts, invoices, and orders.
Pros:
Works best for trading businesses
It offers easy integration across popular channels like eBay, Amazon, and more
Provides updates quickly
It has country-specific versions, providing more convenience to the businesses
Provides customer support all round the clock
Provides one of the best shipping carriers for easy order fulfillment
Zoho Inventory provides an intuitive and easy to use UI
The inventory module of Zoho makes handling your taxes easier
The warehouse option enables tracking of every unit in each warehouse you have
Cons:
It lacks the forecast option
Zoho is only suitable for the businesses that follow the FIFO (first in first out) method for the tracking of items
Requires separate integration with the accounting systems like production management system, Point-of-Sale (POS), and more
Pricing:
Zoho Inventory is a cost-effective inventory management system. Paid plans begin at $39 per month and go up to $239 per month when invoiced annually.
With a 14-day trial, you can get started for free.
---
3. monday.com
It lets you organize tasks, build better schedules, and increase productivity.
Monday.com is a project management and collaboration application that integrates with your current calendars and email accounts.
It comes with capabilities that make it possible to use it as an inventory management system. It allows users to categorize and tag list items, as well as provide each one a description, status, and due date. It is considerably easier to organize and manage your inventory this way. Furthermore, with @mention technologies, inventory tracking and management with other departments within your firm may be done.
Monday's key features include:
Project and workflow management.
Inventory tracking.
iOS and Android mobile app.
Automation builder.
Kanban boards, list view, calendar view, timeline, etc.
Drag-and-drop Gantt chart.
Threaded comments and notifications.
Workload tracking.
Try out monday.com with their free trial
Here are Monday's four pricing plans:
Individual (Free version) – Unlimited boards, unlimited documents, over 200 templates, 20+ column types, up to two seats, etc.
Basic ($8 per month) – Everything in Individual plan plus unlimited free viewers, items, 5GB of storage and more.
Standard ($10 per month) – Everything in the Individual plan + Basic plan, timeline and Gantt charts and views, calendar view, up to 250 automation actions per month, the ability to combine up to five boards, etc.
Pro ($16 per month) – Everything in the Standard plan + time tracking, chart view, up to 25,000 automation actions per month, the ability to combine up to 10 boards, etc.
Enterprise (Quote-based) – Everything in the Pro plan + advanced reporting and analytics, multi-level permissions, tailored onboarding, priority support, the ability to combine up to 50 boards, etc.
---
4. ShipBob
ShipBob is a popular option for wholesalers, retailers, and eCommerce companies today. It is intended to improve consumer delivery times, shipping costs, and overall purchasing experiences. It accomplishes this by using a potent mix of linked technologies, strategically positioned warehouses, and trustworthy fulfillment services.
The program may be used with a variety of e-commerce platforms, including eBay, Shopify, BigCommerce, WooCommerce, and Amazon. UPS, DHL, and FedEx are among the worldwide forwarding providers with which it has substantial partnerships.
ShipBob Key Features
Return Management: Implement automated return orders for a flexible return management process.
Reporting: Streamline shipping and customize reports to track orders, expenses, revenue and sales.
Inventory Management: Take advantage of multi-channel sync to effectively manage inventory using the correct set of tools. Handle transfer requests, set reminders to reload inventory and bundle products for promotions.
Filters: Sort orders based on date, tracking number, fulfillment centers, etc. using advanced filters.
Order Management: Seamlessly integrate with eCommerce stores to maintain workflow across various channels. Track shipping dates and delivery status in real time to manage orders within one unified space.
PROS
Fast Delivery: Use two-day express shipping to expedite deliveries. Avail this service based on the location of the nearest fulfillment center.
Seamless Integration: Integrate on multiple channels like eCommerce platforms, marketplaces and order and inventory management solutions. Maintain a seamless user experience.
Distributed Inventory: Divide products strategically across various geographical locations with multiple fulfillment centers, bringing them closer to consumers.
User Friendly: Access an intuitive, easy-to-use interface with simple navigation to streamline product delivery.
---
5. Katana
Best for small and medium-sized manufacturing businesses.
Unlike the other inventory management solutions on our list, Katana concentrates on helping small manufacturers and company owners with production scheduling and planning.
Katana is a great solution if you need capabilities like raw material management, priority-based production planning, and an automated book engine.
It also gathers all of your business-related data, such as sales status, warehouse status, low stock warnings, and more.
Key Features:
Better Productivity – It increases work efficiency and generates more sales, resulting in better productivity. With efficient management efforts, you can also put more focus on bringing in a more targeted audience.
Instant Control over Inventory – Katana offers Inventory control software in real-time to keep track of products that are in stock as well as for the products that are out of stock. The stock information helps you bring in new products back in stock.
Order Management- Like other inventory management tools, Katana also manages the order cycle to help you with the entire sales process. It also allows you to keep a close eye on the transit of the order until its delivery.
Pros:
Provides extensive customer support for handling customer problems
It comes with a free trial for the users to try the services before buying the subscription
Katana supports the casual planning of production
It supports integration with numerous third-party apps
Provides modern and intuitive user-interface
Allows you to easily manage your orders, inventory, raw materials, and more, at multiple locations
Cons:
Comes with a per-user pricing scheme
There is no feature for multiple currency or multi-language use
Comes with a hefty price tag
Pricing:
What is Inventory Management Software?
Inventory management software is a type of web-based program that aids in the management and tracking of inventory from the producer through the warehouse to the point of sale. They also assist with bookkeeping, invoicing, report writing, fulfillment, shipping tracking, and a variety of other tasks.
Price adjustments are also tracked by these inventory management technologies. For example, if you buy a product for $100 and the price rises to $200 after a month, your inventory is worth more. Then there's the possibility that your merchandise will be lost or stolen. To keep track of all of these products, you'll require inventory management software.
You may also anticipate real-time stock tracking using inventory management software.
What Should You Look for in an Inventory System?
When picking the finest inventory software system for your organization, look for the following qualities.
1. Easy to Use
Inventory management software is only as good as your understanding of it. Look for a tool that you can navigate and utilize without difficulty. It should include all of the tools you need to keep track of your inventory and be scaled to your company's size and personnel count.
Customer support and knowledgebases are available in most of the technologies on this list. As technologies get more powerful, process automation aids in making them easier to use.
2. Accessible in Multiple Locations.
If you have many warehouses or plan to add more in the future, you should consider using a manual inventory management platform that can assist inventory optimization at different sites at any time. Before you spend your money on an inventory management tool, you should think about customer care.
3. Reports & Analytics.
One of the most important components of a solid inventory management system is data. When it comes to warehouse management, it provides you detailed information on your stockpiles and all of your items.
As a result, selecting a platform that can collect data and provide it to you in succinct analytical reports is critical. Looking for a solution that can eliminate manual data input activities is also a good idea.
The days of utilizing several spreadsheets for different providers and attempting to make everything make sense at the end of the month are long gone.
4. Third-Party Integrations.
You're probably utilizing many pieces of software to operate your expanding company, whether it's online or offline. That's why, throughout its existence, it's ideal to use software that can interact with a variety of different tools, such as inventory data, asset management applications, accounting tools, and other apps available on mobile devices, desktops, or anywhere in between. If not now, your company may require all of these solutions in the near future to improve warehouse productivity.
Your software solution should interact with and understand the following:
Barcode scanners
SKUs and serial numbers
Work orders and bill of materials
Reorder points for replenishment
Controls for inventory and stock levels
Customizable sales orders, reorders and stockouts
Works with smartphones through its mobile app (iOS and Android)
5. Customer Service & Training.
Even if the inventory software solution is fantastic, it will be useless if you are unable to utilize it effectively. As a result, pick a product that comes with excellent customer assistance to assist you in using it and using all of its inventory management capabilities.
6. Reliability & Security.
To ensure that all of your data is kept safe and secure, use inventory management software with excellent security features. Make sure to look through the software's encryption, password management, and other features.
Look for a solution that provides cloud-based access as another wonderful approach to assure uptime and security. It ensures that your inventory data is always available, no matter where you are or what device you're using.
Cloud-based technology allows you to decrease downtime, boost productivity, and scale easily.
7. User-Friendly Interface.
Utilize a user-friendly software solution that can be effortlessly linked with how your company already handles inventory management.
One of the most sought-after aspects of inventory software is a user-friendly interface. Check out its features, such as whether it can import data from other programs, how easy it is to use, and so on.
It's also crucial to assess if the software solution you're considering includes all of the best practices for getting started with the system and how easy it is to teach new staff on how to use it.
8. Field service management
Field service technicians, often known as "mobile workers" or "field agents," are employees that operate outside of a regular office setting.
Field service management software allows businesses to monitor where their technicians are at any given moment, what work has to be done, and how to improve route efficiency.
article you may like: